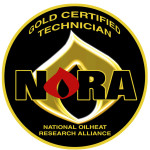 Gold Certification is designed to enable technicians to move beyond basic installation and repair and achieve the highest NORA certification.
To achieve Gold status, Technicians are required to have a NORA Silver certification, a minimum of five years experience working on Oilheat systems and to complete of a minimum of four of the Advanced Training modules.

The modules are: Advanced Air Flow, Advanced Hydronics,  Advanced Efficiency, Advanced Venting, Advanced Controls, Oil Tank Installation & Maintenance and BPI's program Building Science Principles Reference Guide.  An accompanying training manual for each module has been published and can be purchased as part of the certification program or as a stand-alone self-learning guide. The manuals are available for purchase at the NORA Store or they can be viewed and downloaded at no cost here.
In addition, the required course, Bioheat® Technical Guidance (NOR-109-1), must be completed. It is available in the online courses at Learning.NORAweb.org.
Gold certification will remain in effect for 5 years and 24 NORA CEU's and Bioheat® Technical Guidance (NOR-109-1) must be earned during that period for renewal.