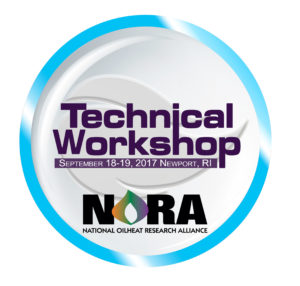 NORA held its second annual Technical Workshop in conjunction with the Southern New England Energy Conference on September 18th and 19th in Newport, RI.
The workshop, assembled by NORA's Director of Research, Dr. Tom Butcher, hosted more than 50 industry professionals as they heard about the latest in Oilheating research, developments and products.
Monday, September 18, 2017
11:15 AM – 12:15 PM
Welcome & NORA Goals
John Huber, NORA
Keynote: How Does the Northeast Respond to Greenhouse Gas Issues?
Arthur Marin, NESCAUM
---
12:15 PM – 2:00 PM
NORA Board Meeting
---
2:30 PM – 3:30 PM
New Ways to Burn Oil
Why Seek New Combustion Technologies?
Tom Butcher, NORA
Babington Burner – Status and Technical Review
Andrew Babington, Babington Technology
Aerosol-Enabled Liquid Fuel Combustion
Jason Targoff, Novatio Engineering
---
3:45 – 4:45 PM
Tankless Coils – Oilheat's Efficiency Achilles Heel
Background
Tom Butcher, NORA
Next Generation Combi Boiler
Roger Marran, Energy Kinetics
NORA Project on Best Practices and Analytics
Tom Butcher, NORA

---
Tuesday, September 19, 2017
8:30 AM – 9:30 AM
Biofuels and Green Fuels
---
9:45 – 10:45 AM
What's Over the Horizon for Technology Development
---
11:00 AM – 12:00 PM
What Else Does the Oilheat Industry Need?
Retailer Perspective
Tom Santa, Santa Energy
Installer Perspective
Bob O'Brien, Technical Heating
Manufacturer's Perspective
Jim Jones, Carlin Combustion
Multi-Dimensional View
Tom Butcher, NORA ,Open Discussion of Research Needs