Four new books now available…Advanced Hydronics, Advanced Air Flow, Advanced Efficiency and Advanced Venting.
Oilheat service technicians wishing to upgrade their NORA Silver Certification to the prestigious Gold level now have a revised and updated Gold program to follow.
To achieve Gold Certification status, a Silver Certification is a prerequisite and the technician must successfully complete four of eight Gold certification topic modules.
Currently, six of the eight modules are available for credit including four brand new releases by NORA: Advanced Air Flow, Advanced Hydronics, Advanced Efficiency and Advanced Venting. Additionally, NORA will be releasing Advanced Controls and Advanced Steam in the near future. The remaining two, Oil Tank Installation and Maintenance and BPI's program Building Science Principles Reference Guide are already in place.
As noted, as well as successfully completing four of the eight courses, the technician must already hold a Silver Certification and have an additional two years field experience (beyond the three years required for the Silver Certification).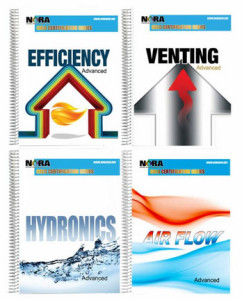 The four newest modules, Advanced Warm Airflow, Advanced Hydronics, Advanced Efficiency and Advanced Venting are presented through live classes and will also be presented as on-line classes in the future. Each of the modules carries six continuing education credits that may be used for Silver Certification renewal or the classes may be applied towards the Gold Certification upgrade. An accompanying training manual for each has been published and can be purchased as part of the certification program or as a stand-alone self-learning guide.
The manuals are available for purchase at the NORA Marketplace at NORAstore.org.
Technicians currently holding Gold status will not be affected by the new program and their certification will remain valid. To obtain a renewal, the requirement for 24 CEUs during the five year life-span of the certification will remain in effect.
The four new modules have been developed by NORA with partnerships with some of the industry's most knowledgeable trainers, technical experts and the Oil and Energy Service Professional trade association.
John Huber, NORA's president, commented, "NORA's mission, as defined in the NORA statute and through its management, is to provide the best technical education possible to those technicians serving the millions of Americans heating their homes with oil. The NORA certification programs not only do this, they also give technicians goals to achieve and certifications to proudly carry while offering the best service to their customers. The Gold Program raises the bar to a very high standard of excellence."