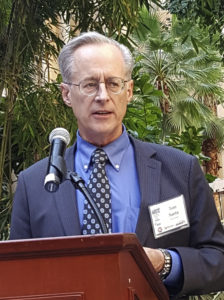 Tom Santa, Santa Energy, Bridgeport, CT, has been the Chairman of the National Oilheat Research Alliance (NORA) since 2017 with his term expiring at the end 2018. For decades, Santa has been a strong advocate of oilheating research. He was an active participant in many Brookhaven Technology Conferences, with a particular interest in bringing a rigorous understanding of the need for good data to assess fuel quality.
When Santa took over as Chairman, NORA's Research Laboratory in Plainview, NY was still in its infancy. With very little equipment in place, and with the well regarded Dr. Tom Butcher at the helm, Santa focused on ensuring the industry developed new technologies and a better understanding of the industries' problems and potential solutions. An active, scientifically sound and well respected lab was vital to achieve this. In addition to Dr. Butcher, a strong team needed to be put in place, preferably young talent. Dr. Butcher was encouraged to develop and work with recent graduates and promising students from nearby Stony Brook University.
Two students stood out and, after internships under Dr. Butcher, they were added to the NORA staff.
The first is Neehad Islam, research engineer. Islam joined the lab as an intern while he was completing his graduate degree in Mechanical Engineering at Stony Brook University, with inclusion of specialization in the thermal sciences. Working at the lab presented an excellent opportunity for Islam to continue his education under the leadership of Dr. Butcher while contributing to the knowledge in the industry.
Islam's projects at NORA have included tankless coil boilers, effects of biodiesel on pump operation, study of hybrid boiler-heat pump control systems and combustion tests on various blends of renewable fuel.
The research on tankless coil boilers evaluated performance parameters and how their efficiency can be improved to allow them to better compete in the market.
The industry's push for biodiesel as an alternative, cleaner fuel has led to investigating the performance of fuel pumps already installed in the field. Advanced flame sensor testing
was conducted to evaluate the quality of fuel cut-off in these pumps. They were then dissected for wear-and-tear analysis. Following the investigation, pump performance, combustion performance and emissions data on various biodiesel blends was compiled. This data may lead to transitioning into higher biodiesel blends in heating fuel.
"I am proud of my work at NORA, participating in an industry that strives for progress to tackle issues facing us in an ever-changing world," said Islam.
"I envision this work to aid in the search for heating systems that are less harmful to the environment while providing high-efficiency heating to homes. Of course, generating the data and making it readily available and understandable to members of the industry is a great first step, but the work only begins there. There needs to be broader discussion on the findings so that real and important change can be effected," he explained.
Ryan Kerr is the second research engineer selected by Dr. Butcher. Kerr began working at NORA in the summer of 2017 as an intern.
After graduating from Stony Brook University with a bachelor's degree in Chemical & Molecular Engineering, Kerr was hired at the NORA Lab in the summer of 2018 as a full-time employee. Kerr's focus is on fuel quality. He tests fuels collected from installations in the field that have shown evidence of fuel problems. This can help identify anomalies such the presence of water or heavy degradation of the fuel. Kerr is currently investigating if the presence of copper is an issue for oil heating systems, as copper can accelerate the oxidative degradation of certain fuels. NORA needs to assess whether, and to what degree, copper actually affects the operation of a system in the field.
Kerr is also helping NORA to expand its study of liquid biofuels, which could decrease oilheat's greenhouse gas emissions without much change in infrastructure. Much of the focus is on studying heating oil/biodiesel blends and biodiesel alone. Additionally, NORA is investigating other, less common biofuels including Ethyl Levulinate and Renewable Diesel.
"Either or both may be a good future option for the industry, and I want to be able to provide as much information on them as possible," offered Kerr.
Santa is proud of the team that is now assembled at the NORA laboratory and believes they will help the industry to move forward. He notes that the research conducted by NORA and Brookhaven has led to the most important improvement in the industry in his lifetime, the virtual elimination of sulfur in heating oil. Santa is confident that NORA's work will lead to future revolutionary changes. He encourages heating oil marketers to visit the lab, see what is going on and provide even more ideas for innovation.